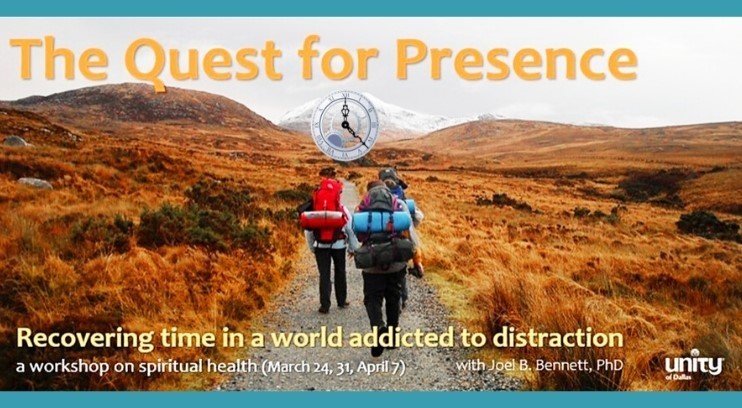 Save to your Calendar
Register at EVENTBRITE (HERE) to receive class materials & ZOOM link and instructions to attend the webinar.
A Mini-Workshop Series on Spiritual Health with Joel Bennett (PhD)
In this three-workshop series, you will learn a new language of time, one that brings wholeness and timelessness to you. Each 90 minute session comes with handouts, mini-lecture, highly interactive exercises, and between-session assignments.
March 24: ZOOM
Part 1: The Treasures Learn the 16 treasures of this happening life that are available every moment.

March 31: ZOOM
Part 2: The Soulful Capacities In this session, participants self-assess four key, innate capacities and how to cultivate them in their daily lives: Acceptance, Presence, Flow, and Synchronicity to make time your friend.

April 7: ZOOM
Part 3: Your Attraction to the Path (90 minutes). In this session, you will learn your "attraction" to four soulful capacities Form (gravity), Chaos (entropy), Time Shaping (cause-and-effect), and Nurturing Conditions (the emergent, the becoming) that interact with the living universe, how they influence your access to the treasures and how you interact with other people in your life.
Bio: Dr. Joel Bennett ) PhD, CWP) is author of "Time & Intimacy," "Raw Coping Power," and "Heart-Centered Leadership." He has conducted workshops on time and spiritual health for 20 years and has previously led spiritual retreats at Unity.